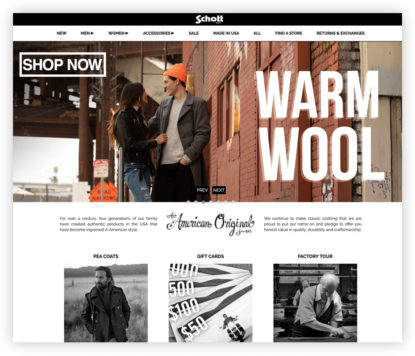 Details
Schott NYC

Overview
Client since

2003

Category

Retail / Fashion

Website

Services

Custom Application Development, Search Engine Marketing

Technology

PHP, Symfony, AS400, ColdFusion, AWS
Schott NYC, founded in 1913, is an American clothing manufacturer based in New York City. By the mid-twenties, Schott was revolutionizing the way Americans dressed for the outdoors when they were the first to put zippers on their jackets. Their classic Perfecto® motorcycle jacket was made popular by Marlon Brando in "The Wild One". Today, Schott is owned by third and fourth generations of the Schott family and is still manufacturing in the United States.
In 2003, Jason Schott reached out to Binary Minds to develop their online store. Schott had several retail locations but no online presence at that point. Binary Minds built the ecommerce website in ColdFusion, which started out with an offering of 25 styles. Schott and Binary Minds have continued to work closely over the years, enhancing and expanding the ecommerce platform including:
Integration with Shipping Carriers to Calculate Real-Time Shipping Costs
Drop Ship Integration for Large Retailers (i.e. Nordstrom) through DSCO
Implementation of "You Call the Schotts" Community Forum
Custom Leather Jacket Product Configurator (Front End)
Expansion of Online Shipping from U.S. to Worldwide
Extranet "Look Book" allowing Retailers to Place Orders for Drop Ship to Stores with Pricing Based on Location
Expansion to Support 500+ Items Across Multiple Categories
Schott's business was initially run off of an AS400 mainframe computer. As other modes of technology became more stable, reliable, cost effective and secure, Binary Minds developed methods for the data in the AS400 to integrate with PHP/Symfony technology, as well as other third-party software, and implemented:
BOM (Bill of Materials) – A system which, after a product is designed, calculates the cost to produce that product based on materials sourced from manufacturing suppliers. This streamlined approach allows Schott to produce their products in a more cost-effective manner, based on a number of factors, including what vendor they procure materials from. Previously, this was accomplished through use of an Excel spreadsheet.
Inventory System for Physical Warehouses
Generation of Purchase Orders to Order Materials, and Invoicing Integrated with AS400
File Generation to Leadtec (Software Running Production Floor), Formerly Done through AS400
Extensive, Detailed, On-Demand Reporting
Secure, Real-Time Integration of Amazon Web Services with AS400
In addition to ongoing application development work, Binary Minds handles online marketing (SEO and PPC) for Schott NYC.
Our traffic has increased four-fold since Binary Minds did the search engine optimization. It gives us greater exposure which is critical for an e-commerce site like ours.
— Jason Schott, VP Finance
Contact us